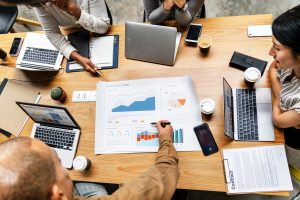 BUILD AUTHORITY:
Ideal for businesses with a sizable marketing budget who require a full-scale marketing strategy and implementation plan to be seen as industry experts and thought leaders. 
Integrate your thought leadership into your online presence and brand awareness by building a powerful thought leadership platform both online and off. Stand out as a leader in your field and find your unique differentiation to market your key differences to attract your ideal market.
Create 'white space' between you and your competition by developing a powerful and custom designed strategy with a full-service implementation plan with skilled consultation and project management.
Grow your Business with Purpose – Develop a clear and concise business marketing plan that combines all of your marketing goals into one comprehensive plan.
Stop wasting time AND money on individual marketing efforts that fail to provide you with results due to a lack of an overall plan. Ensure that your Social Media, SEO, email campaigns, website and other digital marketing efforts are working for you and working together.
We will be with you through the creation of the plan, execution of the plan and all other growth activities so that you have streamlined support and consultation throughout. We provide training and plans that can be continued by yourself and/or other staff  once systems are integrated.
Our clients have saved thousands of dollars and hours of time on their marketing efforts by streamlining their plan and having a project created and managed for them.
Deliverables: 
Clarity about how your business vision will be integrated into your day-to-day business growth plan.
An orientation point for making decisions about what and how to execute your marketing and other business activities.
Holistic and visual business model of how the different parts of your marketing integrate into the big picture of your business.
Marketing project plan with activities, budget, timelines and roll out schedule for implementation
Ongoing 'hands-on' support in executing marketing and business growth activities
This program is designed for Established Entrepreneurs who are ready to invest in themselves and their business. The work is targeted towards Business Owners who are tired of spending money haphazardly on marketing tactics that don't produce results and who want a solid marketing plan with a cohesive implementation strategy that results in:
An increase in their brand awareness.
A direct return on relationships.
Acceleration of their business growth with more focus and much less effort.
Access to a full service marketing agency that provides continuous support and guidance.
An increase in their brand awareness.
To set up an initial consult to get a proposal from our Marketing team click below:
Get a Quote
Meet your Strategic Marketing and Business Growth team:
Business Growth + Marketing Expert
is a business growth + marketing expert. "Business Navigator" is Michela's middle name and she has a relentless passion for helping service professionals be seen and heard. She navigates mission-driven Entrepreneurs to achieve game-changing success, while building a business aligned to who they are. Over the past 17 years she has worked with hundreds of Canada's fastest growing entrepreneurially minded companies, from start-up to $20+ million. As a successful entrepreneur, she works with business owners to help them get focused on the marketing and business development activities that will impact their bottom line and generate results.
Digital Marketing + Community Engagement Specialist
Kaare Long is a Community Engagement Consultant and online Communications Specialist with a Cue Creative Consulting. Kaare works to build Community and Connection within companies and businesses to serve as an innovative and more integral way to reach customers and clients. Specializing in unique and creative campaigns and projects, Kaare can take your Marketing efforts to the next level by providing Consultation, Creative Direction and Project Management for direct community engagement marketing projects for your company. Kaare combines her skills and experience of over 15 years in Marketing, Performing, Public Relations, Writing and Communications to create unique projects that directly connect to the people behind the statistics so that your business can become an innovative leader in customer care and attention.
Connect with us
---