6 Tactics For Knocking Instagram Out Of The Park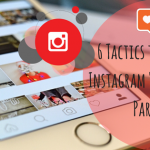 It's no secret that Instagram has become one of the most powerful marketing tools in today's digital age. To get a clearer picture of just how powerful, here are a few stats we'd like to share from Wordstream: "There are over 25 million business profiles using Instagram worldwide" "Over 80% of accounts on Instagram follow a business, and over 200 million Instagrammers actively visit a business profile every day." "60% of users say that they have learned about a
What is an Instagram Pod? The Nifty Trick to Increase Engagement
INSTAGRAM PODS Since the day that Instagram announced that it would be removing the chronological posts and installing an algorithm, much like the one Facebook has, we have been scrambling to find ways to work with the algorithm and find ways to increase engagement. Hashtags have proven to be very useful, but then many ( some quite innocent) hashtags ended up being blacklisted due to overuse by other accounts. This severely limited the usefulness of hashtags in getting further
Social Media Made Easy with the Q.U.A.C.K method!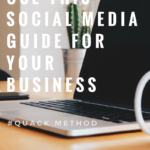 Social media is necessary when starting a business, and not using it is no longer an option. Many don't understand the impact online communication can do for a brand and business. Think of it as a direct and immediate line to reaching your customers worldwide. If you aren't using social media as an integral part of growing your business, you need to ask yourself, why? The big question is, are you taking the time to invest in this tool that's
How To be Popular in a Social Media World
Being popular doesn't mean what it always used to. These days your popularity tends to be intertwined online as much as in person. And when it comes to Social Media for business, popularity is essential. It's a big wide world out there and Social Media has brought us all that much closer together as we can search for anything at the tip of our fingers. For business, Social Media has just started to come into its own and mature.
6 Social Media Myths that Murder your Success Online
Social Media is no longer a passing 'fad' and purely a personal luxury to share selfies, the food you are currently eating and pics of your beloved pets. Social Media has quickly become the #1 Marketing tool for businesses worldwide simply because it is where your clients are hanging out, all of the time – and it is mostly FREE! Since this marketing platform is still relatively new to the game, how to utilize it effectively for your business is
8 Simple Ways to Make the Best of Social Media for your Business
Social Media is one of those things in life that tend to appear complex because of it's simplicity. For many of us business owners who are used to over thinking everything, the very thought of letting go of that practice can be extremely frightening – so, it seems hard when we are challenged that way. But hard it is not. In fact, to really utilize social media to it's maximum effectiveness there are some very simple things that you can
How To Be Unique And Stand Out In a Noisy Social Media World
Social Media is a powerful tool to leverage for your business for many reasons. One of the most difficult challenges to overcome when learning how to utilize these platforms is how to stand out and how to be UNIQUE so that you ARE noticed. So how can you be unique when it feels like it's all you can do to just keep up with the changing technology? The answer is simpler and easier than you may think. Being unique and
Instagram Has Gone Algorithm – Are you Ready for It?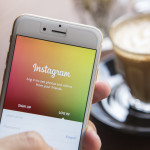 Instagram has announced a new algorithm for its platform Instagram used to be a sequential newsfeed and most of our posts were seen eventually by our followers, but with an impressive growth over the last year Instagram feels that viewers are missing over 70% of posts due to the shear numbers of users on the platform. With over 4oo million users monthly and an increased number of advertisers this was inevitable. In order to make the instagram experience more user