Service Type: Coaching/Training
6 Tactics For Knocking Instagram Out Of The Park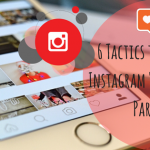 It's no secret that Instagram has become one of the most powerful marketing tools in today's digital age. To get a clearer picture of just how powerful, here are a few stats we'd like to share from Wordstream: "There are over 25 million business profiles using Instagram worldwide" "Over 80% of accounts on Instagram follow a business, and over 200 million Instagrammers actively visit a business profile every day." "60% of users say that they have learned about a
What is an Instagram Pod? The Nifty Trick to Increase Engagement
INSTAGRAM PODS Since the day that Instagram announced that it would be removing the chronological posts and installing an algorithm, much like the one Facebook has, we have been scrambling to find ways to work with the algorithm and find ways to increase engagement. Hashtags have proven to be very useful, but then many ( some quite innocent) hashtags ended up being blacklisted due to overuse by other accounts. This severely limited the usefulness of hashtags in getting further
Social Media Made Easy with the Q.U.A.C.K method!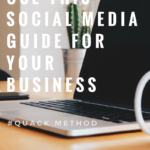 Social media is necessary when starting a business, and not using it is no longer an option. Many don't understand the impact online communication can do for a brand and business. Think of it as a direct and immediate line to reaching your customers worldwide. If you aren't using social media as an integral part of growing your business, you need to ask yourself, why? The big question is, are you taking the time to invest in this tool that's
6 Social Media Myths that Murder your Success Online
Social Media is no longer a passing 'fad' and purely a personal luxury to share selfies, the food you are currently eating and pics of your beloved pets. Social Media has quickly become the #1 Marketing tool for businesses worldwide simply because it is where your clients are hanging out, all of the time – and it is mostly FREE! Since this marketing platform is still relatively new to the game, how to utilize it effectively for your business is
How to Deal With Cyber Bullies As A Business
Keyboard warriors, cyber bullies, trolls. No matter what you call them, they are all the same –  haters whose life mission is to spread misery wherever they go. In light of recent occurrences I have seen online, especially with the ongoing mud slinging and character assassinations we are witnessing with the current presidential campaign taking place in the United States. I felt it prudent to address this topic and explain what these online 'trolls' are, what their agenda really is and
What Does Facebook's Recent Algorithm Change Mean for Your Business Page?
With the launch of Facebook's newest algorithm change, many businesses have seen a significant drop in engagement and viewers of their content. This recent change is one of the toughest ones yet, and will reduce content from your page being seen in newsfeeds significantly. Facebook wants to prioritize content from 'friends to friends' over businesses in it's news feed due to the competition for 'stage time' between businesses and individuals. They state that Facebook is meant to be about friends
Women Small Business Owners – The Backbone of Our Impacted Economy
Small business ownership plays a vital role in developing both the economic and social fabric of both Ontario and BC, this we already know. Not only does it play a vital role, it has been deemed as the 'backbone' of both economies. Small businesses in Niagara are "too big to ignore and a market like Niagara, 98 per cent of businesses are considered small businesses," said Mishka Balsom, president and chief executive officer of the Greater Niagara Chamber of Commerce.
Is Your Compass Pointed In a 'Strategic' Direction For Your Social Media Marketing?
You have picked your location, packed your bags, loaded the car and are ready to start out on your cross country adventure.  Do you venture out without a road-map?  You could, and you may get to where you want to go, but more than likely you will have to make many U-turns, re-directions and end up stopping at a gas station for directions anyways, arriving late and not being able to take in all the sights you had hoped for.
Facebook Live is LIVE – What does this mean for Me the Small Business Owner?
With the rise of live streaming apps like Periscope and Snapchat it is no surprise that Facebook would need to step up their game and create their own video streaming app unique to their own platform as well. The result, Facebook Live! First glitch, it is only available on all Iphones at this point, not Androids. But, according to Facebook, Mr. Zuckerberg and his team are working on the technology to achieve this as we speak. When this will be,
Chad Lowen-Schmidt – Sunlife Financial
We started working with Chad Lowen-Schmidt from the ground level to assist him in building a solid online presence and profile. Chad works with Sunlife Financial and was very new to the city, Vancouver. It was imperative for him to build up a Network and that included his online Network. We established a Facebook Page, Twitter account and polished up his LinkedIn profile. Our work with Chad has resulted in new connections, a professional face on line and a jump