Author:
Kaare
Kaare Long specializes in Social/Digital Marketing as a coach and consultant with her business a Cue Creative Consulting–developing creative, innovative and 'outside of the box' online campaigns and supporting businesses to build engaged and effective social media communities online around their brand. Kaare also writes in her own personal blog which was recently selected as one of the Top 30 Mom Bloggers for VancouverMom.ca in Vancouver for 2016. Her writing focuses on being a single parent in the Entrepreneur world and how to survive and thrive by rocking the boat – www.kaarelong.com Volunteering regularly in the Vancouver community, Kaare sponsors and supports many local artists and community driven businesses and social causes and has been nominated for the 'Power of Peace Award' with YMCA the Wendy McDonald award – Vancouver Board of Trade for Community Catalyst and the 'Community Impact Award' from Small Business Awards B.C. Kaare's driving force is her strong sense of community support to each and every project she undertakes and she is the founder of the #sayhitoastanger social project in Vancouver.
'Make a Better World' – Many Voices at a Time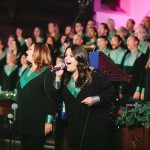 This June 6th and 7th Come and Celebrate the Summer Soulstice in true Soulful Style! PRESS RELEASE The Universal Gospel Choir is an incredible group, with a wonderful outlook on their music, their community service, and their vision and mission. They are a multi-faith, multi-cultural community choir which has brought the joy and inspirational power of the world's sacred and social awareness songs to audiences since 1985. Their repertoire features songs from African-American, Cuban, African, European, Asian, Middle Eastern and Native
'Make a Better World' – The Universal Gospel Choir Press Release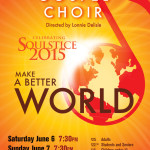 FOR IMMEDIATE RELEASE UNIVERSAL GOSPEL CHOIR ANNOUNCES UPLIFTING JUNE 6 & 7 CONCERTS Vancouver's soulful, multi-faith community choir invites you to Soulstice 2015 – Make a Better World   May 26, 2015 – Vancouver – Universal Gospel Choir (UGC) invites you to two nights of inspiring, joy-filled gospel music June 6th and 7th at Canadian Memorial Church in Vancouver. These performances promise to fill your heart with music that inspires all to Make a Better World. Featuring a diverse collection
#sayhitoastranger Campaign 2015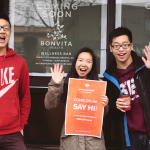 The #sayhitoastranger Campaign of 2015 Feb 13-15 saw some great growth! To visit the official website click here: www.sayhistoastranger.com  Pictures from the event: Kaare Long in Local Media: Media from the 2015 Campaign CBC – Duncan McCue Global TV BC 1 UpFront with Sonia Sunjer />
Spring into Summer with a Social Shine!
#SocialShine! As Spring gradually closes and summer is upon us, it is time to shine up your Social Media Profiles to ensure they are as bright and lively as they can be! Are you unsure if your Social Media is working for you? Are you concerned you're not getting any ROI from your efforts? Do you want to turn followers into paying clients? THEN Be sure to take advantage our #SocialShine special promotion on until Aug 15,2015. For only
'Spring Clean your Social!'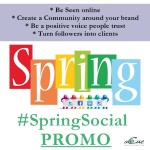 Spring is here and Summer is coming! It's time to tidy up your Social Media Platforms and ensure they are representing you and your business brand in the BEST possible way! Take advantage of our #SpringSocial promotion from April 15-May 31,2015.  What you can get: 1. Social Bird Consultation Package 1 Hr Consultation and review of your Social Media Platforms and online Influence VALUE – $150 1 month of our 'Bird is the Word'* Social Media Consultation ( daily postings)
The Best Kept Secret To Success: How to Fail Well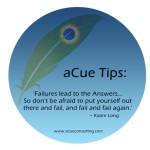 By: Kaare Long Success! That ever elusive word that changes meanings to whomever is speaking it. What does success mean to you? The definition of Success is such: the accomplishment of an aim or purpose. An aim or purpose can be different for every person. What determines success for each individual is the accomplishments of that aim or purpose. Once you have defined what success means to you, then what? I truly believe that if you have taken the steps to
How To WIN In Business By Kicking The Competition Concept To the Curb
How To WIN In Business By Kicking Competition To the Curb by Kaare Long  I'm going to start this article by showing 'by example' what I mean by the title. This blog was not inspired because I am so awesome and know so much. I am, but it's not the reason I felt compelled to write these words today. More often I'm humbled and inspired by all the awesome colleagues and friends in business around me who do the SAME
The Top 5 Mistakes Businesses are Making in Social Media
The Top 5 Mistakes that Businesses are Making in Social Media By: Kaare Long CEO a Cue Creative Consulting – I am constantly surprised by how much I hear from folks in business that Social Media is just not that important. Social Media – Is it really worth it? Do you run a business? And have you ever heard yourself saying these things? I simply do not have the time. It's not enough of an ROI – it's wasted money! Nobody
Hearts For Homes – February Social Media Promotion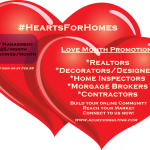 Are you a Realtor, Home Decorator, Home Inspector, Contractor or any other business to do with Housing and Homes? We think you are pretty darn special since you are in the business of HOMES – and that is where the HEART lives! We have a very special promotion JUST for you ~ #HeartsforHomes We're sure you know how VERY important it is to keep your Social Media and Digital Marketing Strategies up to date to reach your market. So, Let us
Social Media Secret – do this ONE thing to boost your engagement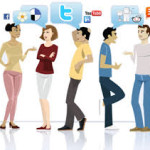 In the world of Social Media, there are lots of tips and tricks on how to be most effective. From what time of the day to post, to the type of content or platforms that you post. We do think all of these things are very important, but we've discovered that there really is only ONE rule when it comes to creating an authentic, vibrant and engaged community online. BE SOCIAL! Now, that may seem easy enough, but