Author:
Alexandra estanislao
Alexandra is an avid snacker, with a keen eye for creativity and planning events. Upon completing her Bachelor Degree in Communications at Capilano University, she realized her true passions were in Marketing and Public Relations. She has gained valuable insight in coordinating community events, volunteering as PR and sponsorship coordinator for non-profits, and working as a Marketing Executive Assistant. She understands the need to continuously innovate with the digital world and has a particular passion for producing creative campaign strategies, and connecting a company's individual brand and story to the public through social marketing strategies. She is now focusing her efforts as Junior Consultant at A Cue Creative Consulting.
Social Media Made Easy with the Q.U.A.C.K method!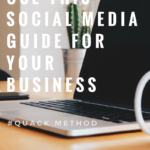 Social media is necessary when starting a business, and not using it is no longer an option. Many don't understand the impact online communication can do for a brand and business. Think of it as a direct and immediate line to reaching your customers worldwide. If you aren't using social media as an integral part of growing your business, you need to ask yourself, why? The big question is, are you taking the time to invest in this tool that's
This Weekend I Became Magnificent – 8 Lessons I learned from the MAGNIFICENT YOU- Women's Conference
Imagine a room filled with women for women inspiring women – now that's powerful. This past weekend we gathered together and adopted a new framework of thinking and living, one that made sure we were moving forward in life, wherever we were at. I had the honor of attending the Magnificent You- Women's Conference this past weekend which is the brainchild of Francesca Anastasi, CEO & Founder who is also the founder of Shimmy Mob and the CEO of Confidance  and it absolutely blew